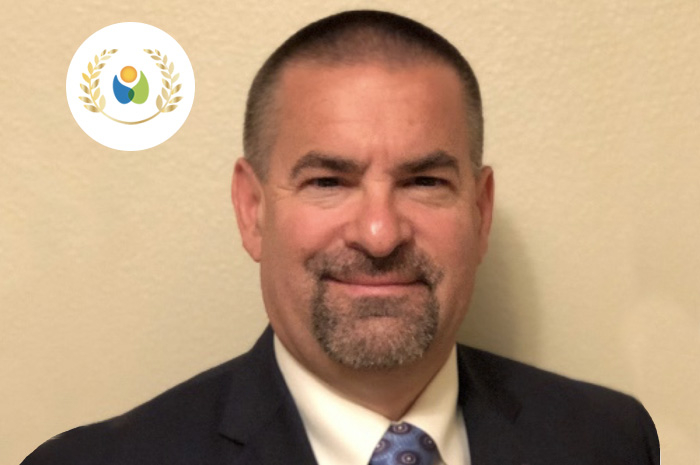 Jeff Van Pevenage
Columbia Grain International President and CEO
The Shifting U.S. Pulse Landscape: An Interview with Jeff Van Pevenage
Columbia Grain International's President and CEO on past and present shifts in the U.S. pulse industry.
It is no mere coincidence that Jeff Van Pevenage's career mirrors the shift in U.S. pulse production from the country's Pacific Northwest to its Northern Plains. To a large extent, it can even be said that he played a key part in making it happen.
Jeff began his professional life as a grain buyer for Columbia Grain International (CGI) in 1990. Today, he is the company's president and CEO. It's a career that took him back and forth from his native Washington State to the State of Montana. And from wheat trading into pulses.
When Jeff started out in the business, U.S. pulse production was centered around Washington's fertile Palouse region. His first position was as a GGI grain buyer based in Washington. A short time later, he relocated to Montana where he worked with oats and durum. In 1999, he was offered an opportunity for advancement back in Washington. But he turned it down twice.
"I was a wheat guy and what they were offering was more of a pulse operation," he explains. "But then the CEO sent my wife Annette flowers and asked her to convince me to go."
He returned to Washington for six years and was then made the head of the wheat trading division back in Montana. Once again, he was working with his preferred commodity, but at a time when pulse production was ramping up in the region.
"I had been back for about a week when a farmer from Plentywood named Terry Syme called our Great Falls office and asked if we would start handling pulses," he recalls.
While Jeff continued to trade wheat, he recognized that pulses represented an opportunity. He started growing CGI's pulse business and soon became convinced that CGI could become a direct exporter of pulses. For the next 15 years, he dedicated himself to building and acquiring assets, and learning the intricacies of the world's pulse markets. Over that time, and in part because of the involvement of a large company like Columbia Grain, more and more pea and lentil production began to migrate to the Northern Plains.
"In 2005 there were virtually zero pulses grown there and I believe CGI's decision to get involved in handling pulses from farmers was the single biggest driver in increasing Midwest pulse production," says Jeff.
Today, Montana is the top pulse-producing state in the country, and Jeff, once reluctant to accept a promotion because it was pulse-related, has become a leading member of the trade and an active member on the executive committee of the Global Pulse Confederation.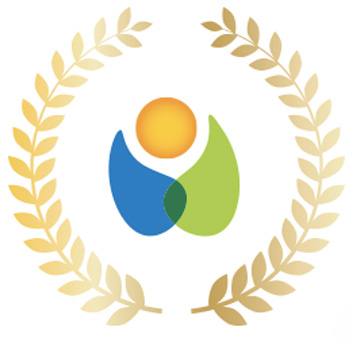 GPC: Tell us a little bit about your personal side. Where did you grow up? What do you like to do for fun?
Jeff: I grew up in Davenport, Washington, the third of seven children. Early on in life I knew that I wanted to get into the grain business. I started at CGI in 1990, buying farm grain in Colfax while I was still in college at Washington State University, and after bouncing back and forth between Montana and Washington over the course of my career, I was elevated to President and CEO in 2016.
Throughout it all, I was accompanied by Annette, my wife of 27 years. Together we have four wonderful children. Ryan, the eldest, is 23 and works for CGI as well. Macy and Alec are 18, and Brady is 15.
When I have time, I like to scale mountains. I summitted Kilimanjaro with my 72-year-old father, my brother and my then 18-year-old son. I also summitted Mount Rainier five times and hit Granite Peak, Montana's highest peak, and did several other climbs in the Cascades of Washington. In the wintertime, I also ice climb.
Besides that, I also enjoy home brewing.
GPC: What is the best part of your job?
Jeff: That would be the relationships I have built across the globe. I have met numerous people that I consider good friends as well as business partners, and learned so much about cultures and international cuisine that its really widened my perspective. Our kids went on exchange programs with customers in Spain, and we hosted their kids. I've taken my family to weddings in India. And I went to a Van Morrison show in Ireland with a Belgium friend from the industry.
I mean, I grew up in a small town of 1,000 people in Eastern Washington and I really didn't understand places like Cairo, Beijing or Mumbai. When I started out as a wheat trader, I didn't see our business as a food business. We were a commodity trader. Then one day I was wandering the streets of Beijing, China, and I came across a small dry goods shop. Inside there was a bag of Emerald Empire Green Peas. That really hit me between the eyes. I stood in wonderment thinking about a farmer growing these peas in the U.S. and selling them to CGI. Then I thought of us processing them and shipping them out to Seattle, where they were loaded onto a steamer and unloaded in a port in China. Then trucked to this little dry goods shop in a city of 30 million people. And here before me was this 100-pound bag of our product and I said to myself, "This is the food business and I'm glad I am in it."
GPC: Can you give us an overview of CGI's pulse business?
Jeff: CGI was formed in 1978. It is a vertically integrated company dealing in a mix of products that includes bulk grain, pulses, edible beans, oilseeds and organics. We operate grain elevators, processing plants and agronomy centers. Today, Columbia Grain has 45 grain and pulse facilities, including two export terminals in the Pacific Northwest through a joint venture with Pacificor. We have an overall pulse cleaning and bagging capacity of 270,000 MT. Our brands include Emerald Empire, Heart Brand, World Wide Fancy and Roughrider Beans. This summer, we are adding a small pack line. Due to our large footprint and high-volume grain assets, we can load pulses on Panamax vessels.




GPC: I understand pulse planting season is coming up in the U.S. What do you expect this season?
Jeff: Yes, pea and lentil crops are generally planted in April and dry beans in May into early June.
Overall, we expect pulse production to be about the same as last year. But the mix will be different. We expect to see more lentil and green pea production and fewer chickpea and yellow pea production this year. Dry bean plantings could be limited by the availability of seed, since last year's crop had quality issues. I would call production sideways this year.
Farmers are not happy with chickpea and yellow pea prices, and they have a lot of other options. Wheat prices have improved and barley options are inviting. CGI recently commissioned a new non-GMO/Organic canola processing plant, so that is an option, too.
In terms of the weather, conditions look decent today, with adequate winter moisture and the spring season starting out normal. I expect seeding to progress nicely, although the COVID-19 pandemic will no doubt create logistical challenges.
GPC: On the subject of challenges, what do you see as the major challenges facing the U.S. pulse industry this year?
Jeff: Our biggest challenge is the targeted tariffs against U.S. pulses in China and India. India imposed a 55% tariff on U.S. lentils. Lentils from other origins, such as Canada, only are accessed a 33% tariff. In China, the tariff on U.S. peas is 25% higher than the tariff on other origins like Canada. This leaves U.S. companies at a major disadvantage.
GPC: Earlier in your career, you were there when the production area shifted from the Pacific Northwest to the Northern Plains. What shifts in the industry are you seeing now?
Jeff: There is more research and development happening, which has changed taste profiles and created a whole new market for pulses in the form of ingredients. Plant-based proteins and gluten free flours are still evolving, but soon will drive the market.
Last year, at a meeting in Pakistan, a buyer there told me that if the U.S. lowered its prices on yellow peas, it could sell a lot more into that market. I responded that we don't have to sell our peas to Pakistan because we consume them in the U.S. for higher prices into pet foods, flours and proteins.
Five years ago, I told people the U.S. was a decade away from consuming its own production. We are almost there, five years ahead of schedule. In fact, we import now.
GPC: In closing, could you tell us about a memorable experience you had in the pulse business?
Jeff: I've developed this ability to overcome language barriers. I have an agent in Italy who doesn't speak English. I don't speak Italian. Nonetheless, over the years I have gone to Italy and we have driven across the country in three days and canvassed all our customers. We always figure out exactly what the other wants to say through some form of communication or other. He is a wonderful friend now.
There was also the time my wife Annette and I shared a table at a wine bar with a group of people we had just met. There was a winemaker from California, a meat salesman from Scotland, a Russia vodka maker and an Irish cheese maker. No one knew each other at the beginning of the night, but we were all involved in food, and we talked and drank till the wee hours of the night, or maybe into the early hours of the morning!
Those are relationships and experiences that mean a lot to me in life.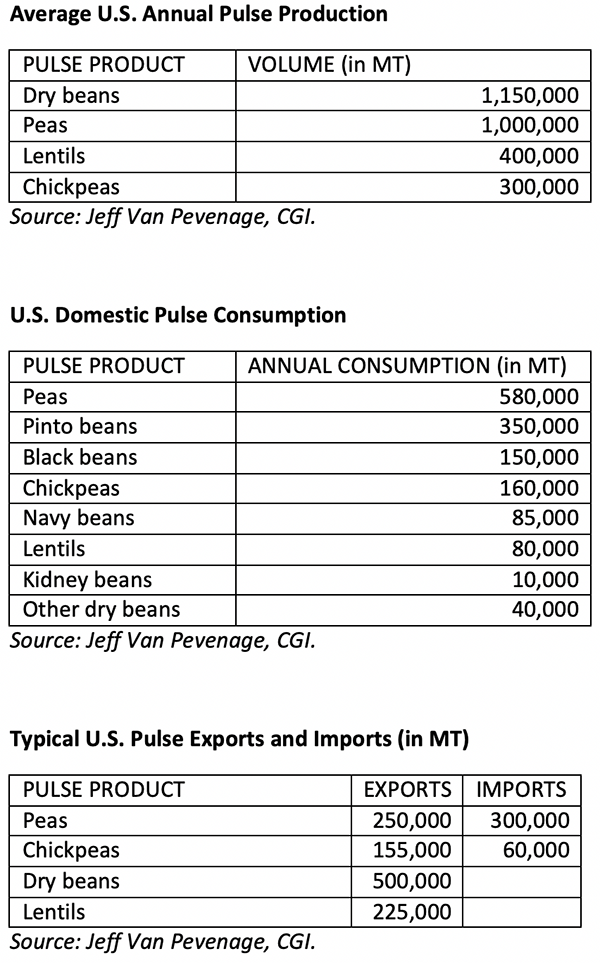 Columbia Grain International / Jeff Van Pevenage / pinto beans / black beans / navy beans / kidney beans / chickpeas / peas / lentils