Canada's Pulse Sector and the COVID-19 Pandemic: An Interview with Gaetan Bourassa
AGT Foods' COO discusses how the novel coronavirus might affect planting, trade and everyday operations in the world's top pulse exporting nation.
Canada is far and away the world's leading pulse exporter. According to AgriXchange, in 2018, Canada exported nearly 4.4 million MT of pulses, almost four times the export level of its closest competitor, Russia (1.13 million MT). By the end of 2019-20, Agriculture and Agri-Food Canada expects the country's pulse and special crop exports to amount to 6,381,000 MT, up from 6,097,000 MT the previous cycle.
Maintaining exports at that level is no small feat given the current trade environment. A few years ago, India, which has historically been Canada's top pulse buyer, announced it aimed to become pulse self-sufficient, and imposed protectionist policies, including duties and import restrictions, to support its farmers.
Asked about the impact on Canada's pulse sector, Gaetan Bourassa, COO of AGT Foods, one of the sector's leading companies and a GPC President's Club Platinum Partner, conveys a c'est la vie attitude.
"India has had almost ideal growing conditions the last three years for their rabbi crop, but its next drought or excessive rain event during harvest could quickly result in Indian policies being reversed for several years," he reasons. "In the meantime, red lentil shipments to India have continued despite the duty, and increased demand from China and the food ingredient market over the past five years in North America has left pea acreage pretty much flat."

The global pulse trade is further complicated this year by the emergence of COVID-19. In response to the pandemic, entire nations have instituted lockdowns or other measures to contain or slow its spread. These efforts have caused disruptions in shipping, logistics and the global food supply chain, including cancelled vessels, container shortages, short staffing at ports, delays for truckers and more.
In this interview, Gaetan speaks to the challenges of working in Canada's pulse sector during the COVID-19 pandemic, and shares his personal experiences and insights on everything from this year's crop to market trends to his two-year-old daughter Huxley's fondness for split red lentils.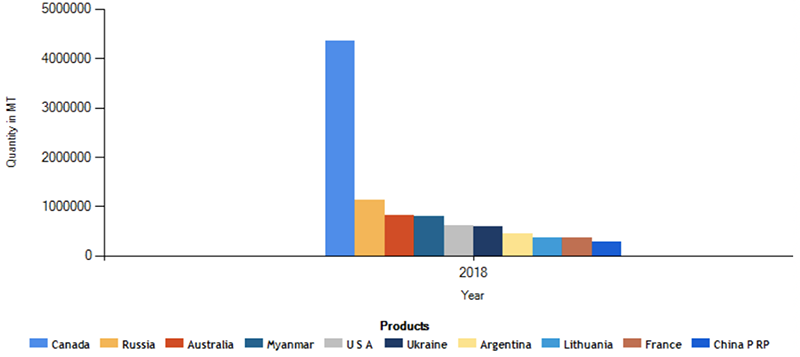 GPC: Could you tell us a little bit about your personal background and how you became involved in the pulse business?
Gaetan: I'm from a small farming community in southern Saskatchewan, but my family didn't farm. My first experience with farming came in high school, when I held an afterschool job at a produce farm. I tended to the fields in the summer and harvested potatoes. Later, we would wash and package the produce. This foreshadowed my later life.
I must admit, though, that when I first started in the pulse business back in 1993, I had no idea what a lentil was, or that dry field peas were exported from Canada. But I was lucky to get a job with a pioneering Canadian pulse company. Because the company was small, I did everything from logistics to procurement to grading quality to pea cooking time tests to dumping grower trucks and preparing farmer settlements.
Later, when I became general manager, I spent several weeks working the night shift on top of my regular daytime hours to learn how to run the splitting factory. I was managing people who worked in the factory, and so I felt it was critical that I understood the jobs they did. By doing this I was able to better coordinate the factory and supply chain, and our production increased by 30% in less than a year.
These early experiences have helped me significantly throughout my career. Now, 26 years later, I'm still working in the same industry with a leading global pulse company.
GPC: Right, I want to ask you about AGT Foods, but first, I wonder if having grown up in Saskatchewan, pulses were part of your personal as well as your professional life.
Gaetan: I come from a French-Canadian family and grew up eating pea soup. As an adult, I started eating pulses more and more because of their incredible health benefits. At home now, my family eats a largely vegetarian diet and my wife, Delaney, cooks with pulses almost every day. She thinks one of the greatest benefits of my job is the fact that we have an endless supply of pulses. In fact, AGT split red lentils were the first solid food my daughter Huxley ate. She is now two years old and she still loves them.
GPC: About AGT Foods, could you give us an overview of its pulse business?
Gaetan: AGT (Saskcan) started out with a lentil splitting factory in Canada back in 2002. We soon diversified into all other pulses and our company grew throughout the world. We now have over 40 facilities globally, in Turkey, Canada, the United States, Australia and South Africa, and trading offices in India, the United Kingdom, Europe and Myanmar. We also have packaged/canned food divisions in Turkey, Canada and South Africa. About five years ago we invested in a pulse fractionation plant in North Dakota where we make pulse proteins, starches and fibers, and further value add these streams into texturized vegetable proteins (TVP) and pasta.
GPC: And as the COO, what would you say is the best part of your job?
Gaetan: Without a doubt it's the great people we work with, not only at AGT but along all levels of the supply chain. You become a lot more than just business associates with these people. We attend their children's weddings and family funerals.
And while I wasn't born into the business, in a sense all my children certainly have been. They know the names of many of the buyers and brokers that call me at home, and they ask me questions about them. I hope that some of them will become the second generation in the pulse business from our family!
I also love how diverse the job is. Every day is different, and this motivates me. There isn't a day I don't wake up eager to get my feet on the ground to see what the day will bring.
GPC: Over the course of your career, what have been the biggest changes you have experienced in the pulse sector?
Gaetan: Definitely the growth in pulse acreage. In the early 1990s Canada only grew green lentils, but around 1995 we brought up some of the first red lentil seed, called Crimson Variety, from Washington state. We started splitting them in 1996 and soon after we saw acreage grow to support bulk vessels of red lentils. In 2016, Canada hit over four million acres.
GPC: The planting of the 2020 pulse crops is right around the corner. What are your expectations for this year?
Gaetan: With the recent March demand surge, mostly due to COVID-19, pulse prices have increased sending a signal to growers around the world. Being that this occurred just before the 2020 seeding cycle, there's a good chance red lentil acreage in Canada will be up more than 30% over last year. I think we will see some last-minute upticks in planting of most pulse crops this year, with the exception of kabuli chickpeas, where carry-out remains high and prices remain weak.
GPC: How do you see the COVID-19 pandemic affecting pulse markets?
Gaetan: As unfortunate as all the human stories are, the pandemic has ignited a very busy shipping period and I think this increase in demand will remain for the balance of the year. During this time of uncertainty, we think many consumers will favor cheaper proteins that can be stored and feed families for longer periods of time. There will also likely be even more household discussion and introduction of pulses and pulse foods into everyday diets.
GPC: How has the pandemic affected the workforce in the pulse sector and what can be done to alleviate those impacts?
Gaetan: At AGT, our priority has always been keeping people safe. This pandemic has just underscored the importance of that. We have been closely following the advice of experts, with physical distancing, the regular washing of hands and frequent sanitizing of common use surfaces. At our factories, we implemented split working groups and have had excellent employee buy-in. Employees who were previously in close quarters are now separated by newly installed plexiglass separations. We also have hundreds of employees globally working from home, which has certainly tested our IT systems. But we are lucky that to date all is working well. This situation also gave us the necessary nudge to go further on paperless processes.
Now, beyond our facilities, one of the biggest potential impacts for our trade flows would be trucking logistics and ocean carriers. With lockdowns in many countries and disrupted trade flows of non-essential items, it's hard to predict if you'll have the equipment you need to move product. We've had many discussions around this, making contingency plans as we don't want to commit contractually to anything we cannot achieve during these uncertain times.
GPC: What do you consider to be the most important line of pulse research currently taking place?
Gaetan: Canada is home to a world-leading research community, and we are proud of that. Our researchers are working on everything from breeding new and improved super varieties to improving agronomic practices for our growers to learning how to better include pulses whole or as ingredients in new food products.
There is ongoing research on various methods of deflavoring pulses to allow for higher inclusion rates in everyday foods. Some of us may love the flavor of peas, lentils and beans, but the everyday consumer may be less familiar with those tastes and less tolerant of them. So deflavoring them will be important to increase their uses.
GPC: Where do you see the greatest opportunities for the future of the global pulse sector?
We still see a lot of opportunity in the area of educating consumers in the Western world about the benefits of pulses, mostly how nutritious they are. The Canadian Food Guide, a nutritional guideline published each year by our national government, added pulses as a recommended food group in 2019. That's a big deal and we think a sign of where things are headed in terms of increased consumption.
But the next big trend I think we will see is pulse ingredients being used more and more in everyday foods. We are already seeing them in thousands of products, in a variety of forms, including most recently as texturized vegetable protein. This is an exciting area because we believe there's a lot of innovation still to come.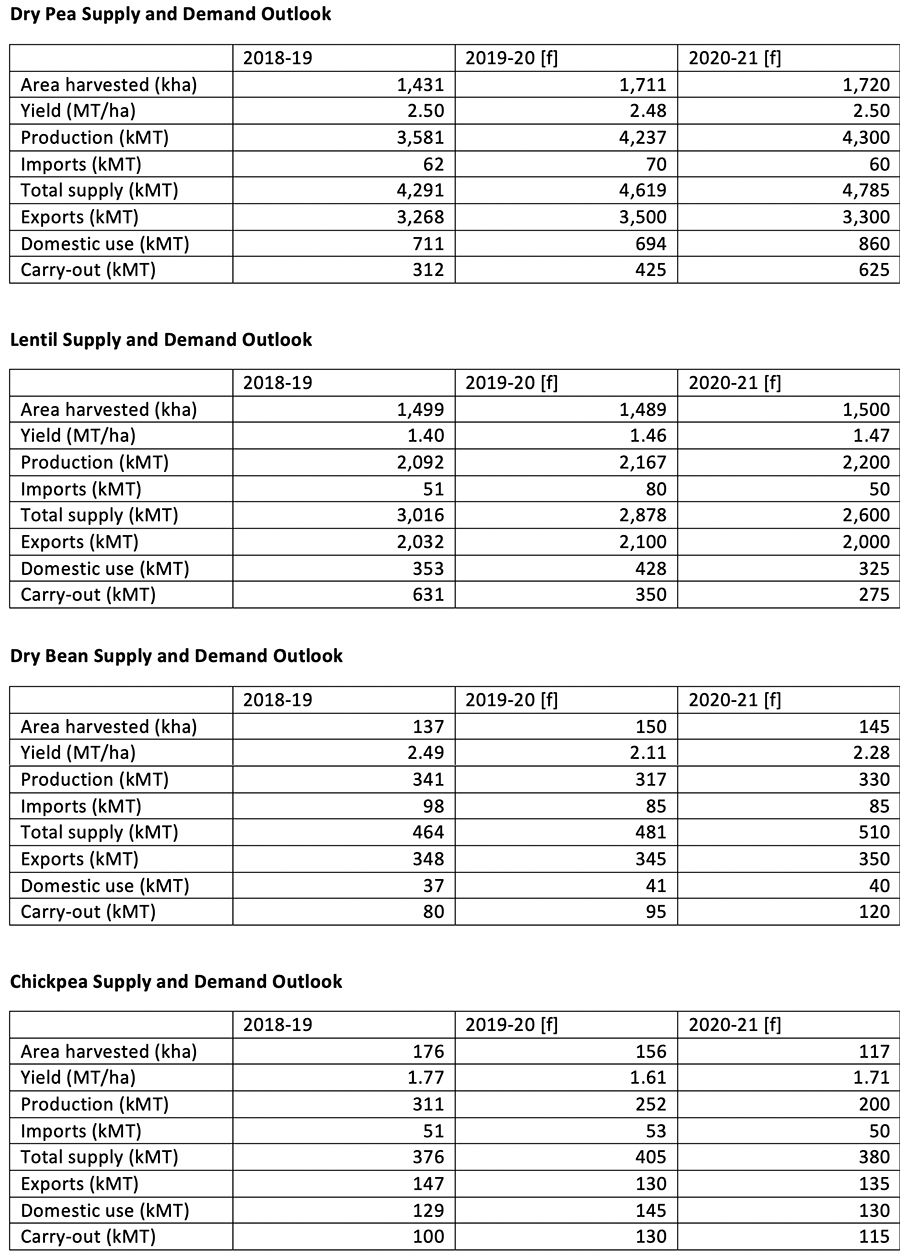 Gaetan Bourassa
/
AGT Foods