POD FEED
Featured Articles
Update on Canada's Pulse Crops
StatCan releases its first yield and production forecasts.

On August 28, StatCan released its first yield and production projections of the year. These were included in its production report for principal field crops based on its July field survey. The data from that report has since been updated on the StatCan website (see table below).
Production is estimated to be up across all pulse crops except chickpeas. According to StatCan's latest figures, dry pea production is estimated at 4.67 million MT, up 30% from last year with better yields of 2,714 kg/ha. compared to 2,500 kg/ha. last year. Lentil production is estimated at 2.5 million MT, up 20% from last year, with yields of 1,678 kg/ha. compared to 1,395 kg/ha. last year. The dry bean crop is up a modest 4% to 356,100 MT, with yields improving slightly from 2,500 kg/ha. to 2,513 kg/ha. Chickpeas are down 16% to 262,700 MT with slightly lower yields of 1,700 kg/ha. compared to 1,769 last year.
Early in the growing season, conditions were dry, but rains arrived in late June into July and helped improve crop health. Presently, rains are hampering harvest progress across Western Canada. A news report indicates about half of Canada's pea and lentil crop had been harvested as of the week ending September 2, well behind last year's pace of 80% and 2017's pace of 90% for that date. A summary of crop reports from the major pulse-growing provinces follows.


Alberta
As of September 3, the dry pea harvest was 42% complete, with considerably better progress in the southern part of the province and gradually slower progress the farther north one goes. Frost is a concern, as part of the province experienced freezing temperatures that week.
Manitoba
Rains during the week ending September 10 interfered with harvest and a good part of the state had a light frost over the weekend. The dry pea harvest is nearly complete, with 98% of the 112,574 hectares seeded to peas combined as of September 10. In the Swan River area of northwest Manitoba, yields of 40 to 80 bushels/acre have been reported. In the central region, yields of 40 to 65 bushels/acre have been reported.
The dry bean harvest is only at 6% complete, significantly behind the five-year average of 25%. Manitoba growers seeded 155,752 hectares to dry beans this year.
Saskatchewan
For the week ending September 9, wet and cool weather predominated, but growers were nonetheless able to get some harvesting done. The pea and lentil harvests advanced to 66 and 63% complete, respectively. Estimated average yields were 39 bushels/acre for peas and 1,452 pounds/acre for lentils. Chickpea harvest progress was 9% and yields are averaging 1,385 pounds/acre.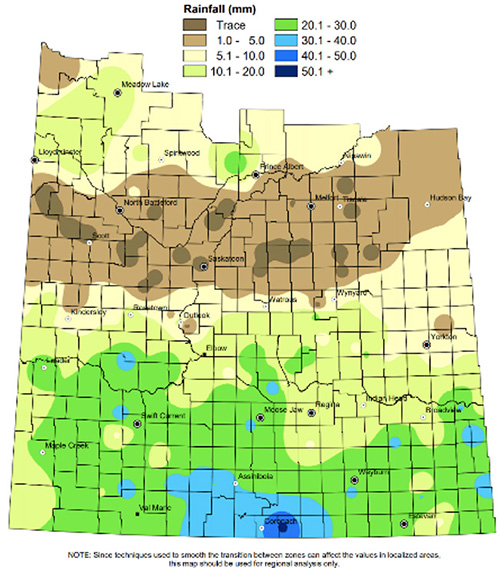 ---