POD FEED
Featured Articles
Tanzania's 2019 Pulse Exports
Zirack Andrew of the Tanzania Pulse Network puts last year's export performance in perspective.
It goes without saying that Tanzania's pulses are very essential crops, most especially for trading. With a small share of the production destined for local consumption, one can properly brand them as cash crops. For proof, one need only notice how production goes south -- and fast -- the moment international markets crumble. It is that simple.
Tanzania produces a variety of pulses, but in this article we will focus on four of the major pulse commodities, namely kidney beans, chickpeas, pigeon peas and green gram.
Tanzania Revenue Authority data indicates that the combined export of these four pulse commodities continued to trend upward, hitting 190,391 MT in 2019, a nearly 10% increase over 2018's level of 174,512 MT.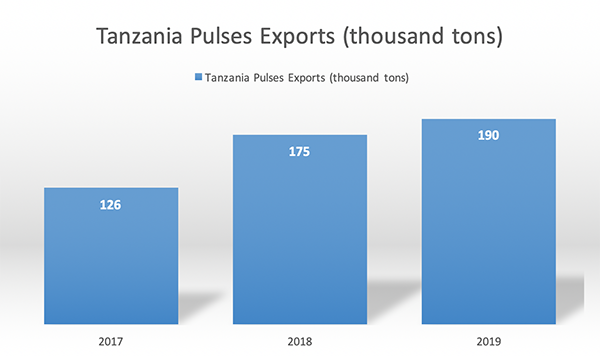 This simplistic overview, however, may lead one to a misleading conclusion that all pulses did perform well. As we shall see, when each pulse crop is taken individually, the data reveals a totally different picture from the one suggested by the cumulative trendline.
A brief analysis of the performance of individual pulses follows. This analysis compares 2019 performance with that of 2018.
Kidney beans
In 2019, kidney bean exports went against the overall trendline. In 2019, kidney bean exports amounted to 1,202 MT, well below the previous year's 2,845 MT. This marks a nearly 58% decline.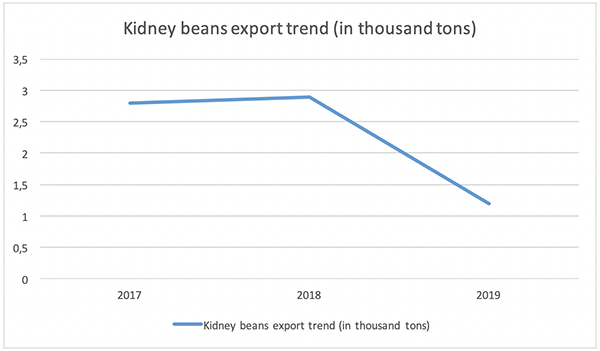 In 2018, Pakistan took the largest share of Tanzanian kidney beans. But in 2019, India was the top destination and exports to Pakistan decreased notably. For instance, in the month of March, when shipments to Pakistan peaked at 2,270 MT in 2018, they fell to a mere 24 MT in 2019. Efforts are underway to establish the reasons for this dramatic decrease.
Green gram
This is yet another pulse product that saw exports balk the general trendline. Last year saw a steep decline in green gram exports, which fell from 44,895 MT in 2018 to 18,362 MT in 2019, a 60% decrease.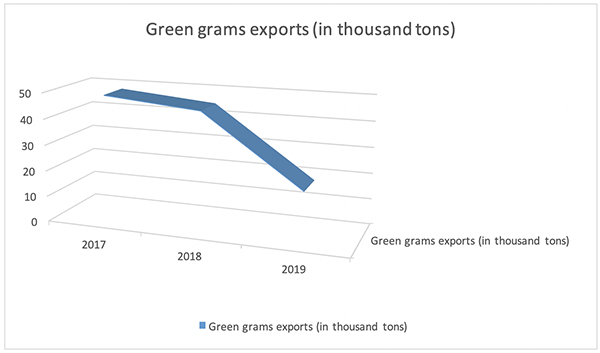 The decline can be explained by India's imposition of quantitative restrictions on green gram, pigeon pea, pea and black gram imports. These restrictions have been in place since June 30, 2018.
Unlike kidney bean exports, which found other markets, green gram exports did not. If India maintains its restrictions, it is certain that green gram exports will decrease and production will consequently be discouraged.

Pigeon peas
According to TRA's export statistics, Tanzania exported a total of 83,649 MT of pigeon peas last year, a mere 3% decline from the 85,865 MT exported in 2018.
But to get the true picture of pigeon pea export performance, one should look back at 2017, when India imposed a complete import ban on the crop. That year, a measly 51,174 MT of Tanzanian pigeon peas entered Indian ports. Therefore, what has happened over the past two years is that pigeon pea exports have returned to their normal level.
Of course, last year India did have quantitative restrictions in place, but they were relatively accommodating compared to the total ban that had been imposed previously.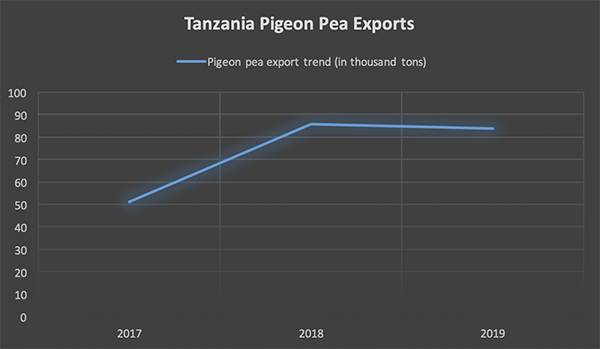 As with green gram, the primary export destination remained constant, with India being the leading destination. However, an inspiring dalliance is emerging between Tanzanian exporters and some European countries, such as Belgium and the Netherlands.

Chickpeas
Chickpeas were the only pulse that saw exports increase, and they did so dramatically. It is this growth in chickpea exports that has offset the slump in all other types of pulses.
In 2019, chickpea exports totalled 87,178 MT, an astounding 113% increase over the 44,895 MT exported in 2018.
As usual, and just like with Tanzania's other pulse exports, India took the lion's share of chickpea exports.
This surge in exports is surprising, given that other origins experienced a decline. Perhaps the main reason for it is that Tanzania specializes in producing desi rather than kabuli chickpeas – unofficial data puts kabuli production at less than 5% of total chickpea production. Turkey and other origins reported an overproduction of kabuli chickpeas in 2019.

Which pulse had the best year?
Among Tanzania's big four pulses, chickpeas had the better export performance in 2019, with a 113% increase over the previous year. The other three all had negative performance: pigeon peas (- 2.6%); dry beans (- 57.8%); and mung beans (- 59.1%).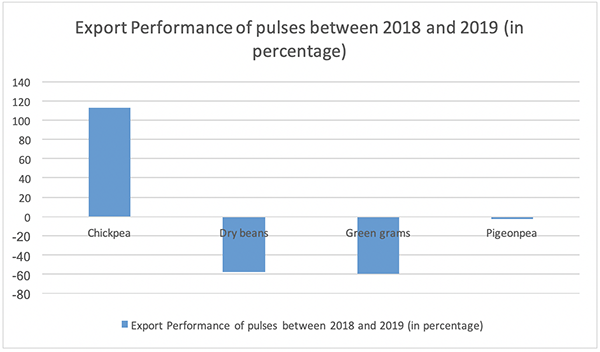 What do pulse exporters anticipate for 2020?
Conversations with exporters revealed a great deal of uncertainty about the Indian market, with concern about a boom in pulse production there leading to even tighter import restrictions. Exporters are hopeful about chickpeas, but the new crop won't be available until August. Presently, they are looking to place the recently harvested green gram crop.
Exporters see a good chance of India increasing tariffs and quantitative restrictions on pigeon peas, mung beans and dry beans. On the bright side, some European nations are starting to make inroads in Tanzania and may represent new markets for the country's 2020 pulse crops.
Topics
Zirack Andrew / Tanzania Pulse Network / kidney beans / green gram / pigeon peas / chickpeas
---
Any information provided by an external source does not necessarily reflect the official position of the Global Pulse Confederation and should be verified independently.