ASK THE EXPERTS
Webinars from members of our industry
Ukraine Ukraine Market Outlook World Pulses Day Webinar Final Program

This very special Ask the Experts Ukraine Market Outlook webinar features leaders of Ukraine's pulses industry and sessions on dry beans, chickpeas, lentils, dry peas and shipping and logistics. Keynote speakers include NAFED Additional Managing Director Sunil Kumar Singh, GPC President Cindy Brown and officials from Ukraine's Ministry of Agriculture.
GPC members will be automatically registered on Monday, February 1st. Registration for non-GPC members opens February 8th and is subject to availability.

Webinar Agenda
February 17th, 2021 (All hours in Kyiv time, GMT +2)
• 8.00: Networking Lounge and Exhibitor Booths open

• 12.00: Keynote Speaker - Antonina Skliarenko (President of the Community of Pulse Producers and Customers of Ukraine)

• 12.10: Keynote Speaker - Cindy Brown (President of the Global Pulse Confederation)

• 12:15: Sponsor Recognition

• 12.20: Keynote Speaker - Shupik Sergey Nikolaevich, Deputy Minister in the Ministry of Economic Development, Trade and Agriculture of Ukraine.

• 12.30: Keynote Speaker - Sunil Kumar Singh (Additional Managing Director of NAFED, India)

• 12.40: Keynote Speaker - Sadhguru (Isha Foundation)

• 12.45: Keynote Speaker - Zhao Nianli (First Secretary of the Economic and Commercial Counselor's Office, Embassy of China in Ukraine)

• 13.00: Networking Break

• 13:05: Dry Peas Outlook:
- Analyst: Sergey Feofilov (UkrAgroConsult)
- Moderator: Cem Bogusoglu (Swiss Aegean Trading GmbH)
- Panelists:
- Alaverdova Tatiana (Harveast Holding)
- Onur Vatan (Sintez Group)
- David Chen (Nanjing Bonagro, China)
- Muhammad Ahmed (AWAM Group of Companies)

• 13.50: Networking Break

• 13.55: Dry Beans Outlook
- Analyst: Sergey Feofilov (UkrAgroConsult)
- Moderator: Katia Sambin (Chippewa Valley Bean)
- Panelists:
- Oleg Biliavets (Biligrain)
- Nick Halliwell (Agrolider LLC)
- Michael Kemperdick (Schluter & Maack LLC)

• 14.30: Networking Break

• 14.35: Chickpeas Outlook
- Analyst: Sergey Feofilov (UkrAgroConsult)
- Moderator: Navneet Singh Chhabra (Global Garbanzo)
- Panelists:
- Neil Goates (AGT Poortman)
- Alexandr Chumak (MAER LLC)
- Kirill Mykhailov (ETG Commodities)
-
Anastasia Malienko
(Arnika Agroholding)
• 15.10:
Networking Break
•
15.15:
World Pulses Day:
Tkachuk Vadim Anatolyevich
, Vice-rector for scientific and pedagogical work, international activities and development, Doctor of Economics, Professor
• 15.25: Networking Break
• 15:30: Sustainability and Climate Change: Elena Neroba (Business Development Manager of Maxigrain)
• 15.40:
Networking break
• 15.45:
Impact of COVID-19 on logistics (
Ayhan Akbaba
, founder of AgroDrive)
• 15.55:
Closing & Recognition of Sponsors
• 16.00:
End

Ukraine Market Outlook
In recent years, Ukraine has emerged as a major exporter of pulse crops. Yellow peas are the country's primary pulse export, and it also exports significant volumes of chickpeas, kidney beans and lentils. The top markets for Ukrainian pulses include Europe, India, Turkey and Pakistan, with lesser volumes regularly shipped to other destinations such as Malaysia, Bangladesh, Egypt, Jordan, Israel and others.
The GPC's World Pulses Day Ukraine Market Outlook scheduled for February 17th will feature expert panels that will analyze the market conditions for each crop just as the country heads into its pulse-planting season.
GPC Market Outlook webinars attract hundreds of participants representing the leading companies in the global pulse trade, thus providing unique networking opportunities and offering sponsors an unparalleled platform to reach the industry's movers and shakers.
Stay tuned for more updates on this upcoming GPC Ask The Experts Webinar!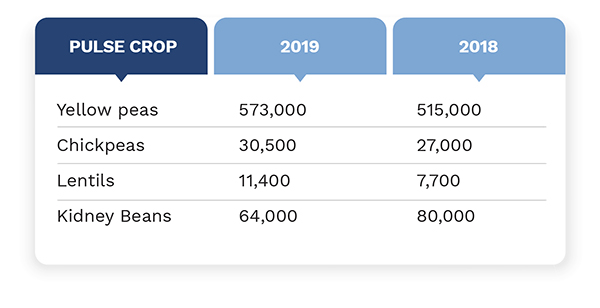 TAGS
Ukraine / Ask The Experts